A New Year A New You!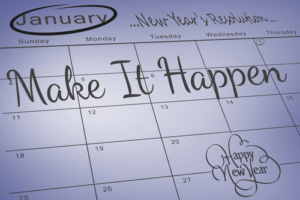 Are you like the thousands of Americans who have made a New Year's resolution?  Have you made them in the past and struggled or failed to be able to keep them?  In 2016, I made a commitment to take control of my health.  For me, a little extra motivation was the fact that my son was getting married and I wanted to look healthy and fit for his wedding.  It was a nine month journey, not without its sacrifice, setbacks, trials and times when I wanted to give up.  But with consistency, planning and focus on the goal I was able to achieve the end result.
How does that equate to being a business owner you may wonder?  For me, eating healthy, exercising and feeling better about myself was a great boost in productivity and self-confidence.  Business has grown, projects are larger and more complex.  But, I feel I can tackle them.
A New Year's resolution can vary greatly from something personal such as being more active, getting in better shape or eating better, to performance goals at work.  Whether it is a personal goal or a business goal, you can take steps to help ensure that you are able to stick to your New Year's resolution.
Write it down or create a vision board.  For me…I found my mother of the groom wedding dress that I fell in love with and bought.   It was a size I hadn't seen in years.  I needed to say on track with diet and exercise to still fit into it for my son's wedding.  I looked at it regularly, tried it on occasionally and knew I needed to stay with the program to have it zip!  Focus on the goal.
Studies have shown that when you put things in writing it is easier to stick to your goals.  Don't just jot it down and throw it in the bottomless pile of papers on your desk.  Put it somewhere that you can see it and hold that dream, touch that piece of paper or whatever you need to do to fulfill that dream and not become complacent.
What do you want for your business?  How many new clients or projects do you want?  How much do you want to grow your retail business?  As an employee, what education or training don't you have that you should obtain?  Is there a next level of position you seek?  If so…what qualifications are required and are you willing to educate yourself to ensure you have those skill sets?
Make your goals attainable.  Most people give up their weight loss resolution by February.  They look at the total number of pounds they want to lose instead of breaking that total number down into smaller goals with attainable numbers and dates.  As a business owner, it's pretty unrealistic to think you will turn your start-up business into a million dollar company in 3 months.  Start out small and know that you can always give yourself new goals as the year progresses.  Shoot for goals such as to lose 10 lbs., walk 7,000 steps, then 10,000 steps and then compete in challenges with fit bits or friends.  Look to increase your business by 5-7%. Add one or two new services or products in the coming year. These are things that are attainable.
Create a plan. There is no better way to get to your destination or goal than to have a path laid out as to how you plan to get there.  It may be to cook your meals on Sunday and have healthy snacks ready.  Perhaps instead of browsing social media for the latest in what's happening with friends, you take an online class or volunteer at a nonprofit organization.  You gain experience and expand your network.
For the business owner, simply saying you're going to be more profitable with no plan as to how you are going to do it, will often leave you empty and discouraged.  Have dinner with trusted colleagues and discuss your plan.  Then put the plan to paper and execute.
The New Year is a great time to start a new steps in the right direction.  Be sure to set yourself up for success and create a path to follow.  Little reminders of what your goal is and being able to see the progress will help you continue down the path the success! Take time to celebrate the little victories.  I will tell you that it's easy to slide back into old habits.  Commit to eating right, exercising and plan for your next position or business growth opportunity.  Be the best you can be in 2017!  Are you up to the challenge?
About the author: Autumn Edmiston is the CEO and owner of the Edmiston Group. The Edmiston Group is a multifaceted Pittsburgh based marketing consulting firm providing senior level marketing management services to businesses and non-profit organizations on a short or long term basis. Core areas of service are business development, marketing, strategic planning and public relations. The Edmiston Group has consistently delivered and implemented real-world, proven business marketing ideas and strategies for business growth.