Five Star Customer Service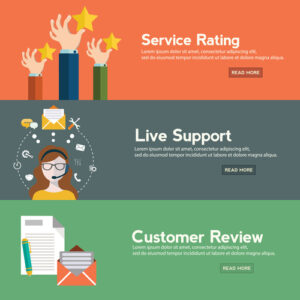 Don't you just love it when a company goes out of their way to make sure that your wants and need are met! It makes you feel as though you are more to the company than just a number or another dollar in the bank. As a business owner, knowing how to make customers feel important and appreciated will help to drive your business and a great reputation for your company. It makes people want to buy from you.
There are many ways that you can show your customers your appreciation, most of them costing a little extra time and effort. Taking that extra time for the small things will go a long way.
"I'm already stretched so thin." you might say, "I don't have the time to take the extra time." While it may seem impossible, taking things one small step at a time will make the impossible seem possible.
Here are a few ways that you can show your appreciation.
Remember details about your regular customers or clients. Things such as names, preferences, or even to the way they like their food. This will help to make them feel more comfortable in doing business, by you providing that personal connection.
The lost art of hand written cards. Whether they are thank you cards, birthday cards or sympathy cards, it is important to send a hand-written note. This type of correspondence will be remembered. In this day in age when computers run most aspects of our lives, hand writing shows the receiver that you have taken the extra time to show genuine concern or gratitude. I once sent a sympathy card to a client and he told me my card was the only one he received from business associates that was hand addressed with a personal note.
Don't be afraid to give out your personal number. As a business owner, your number is already out there. Being able to be reached is important aspect of keeping an open communication line with your clients/customers.
Reach for the stars and go above and beyond normal service. Sometimes this means giving customers a little extra. Some examples of this are

Office: Have occasional days where you bring in a snack, fruit trays, a sandwich ring, or doughnuts.
Landscaper: After all the landscaping is complete incorporate something such as a bird feeder, give away a lawn tool to help maintain the yard, or add a little something extra such as a plant or shrub.
A nice gift from your realtor after purchasing a home.
Employees are part of the customer service experience as well. Train them on products and services so they know how to most effectively serve your client base. But also take the time and recognize employees for a job well done. A 'Thank You' and 'I appreciate all you do for our customers' can go a long way toward employee morale. A thank you and a Starbucks gift card or gas card for a job well will let your employees know how much you appreciate their efforts.
Part of being a successful business owner is demonstrating your appreciation to your clients, customers and employees. Doing this will show them that they are more than a number on the payroll or a dollar in the cash register. Most of the extra effort costs little to no money, just time and thoughtfulness.
About the author: Autumn Edmiston is the CEO and owner of the Edmiston Group. The Edmiston Group is a multifaceted Pittsburgh based marketing consulting firm providing senior level marketing management services to businesses and non-profit organizations on a short or long term basis. Core areas of service are business development, marketing, strategic planning and public relations. The Edmiston Group has consistently delivered and implemented real-world, proven business marketing ideas and strategies for business growth.