From Yeah But… To Because: Becoming an Expert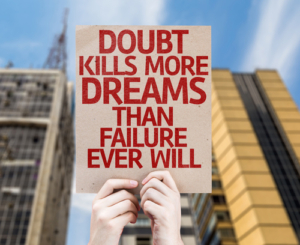 What draws people to you or your company? What sets you apart from other companies that offer similar goods or services? Being able to turn the, yeah I could do that but, to we are the best at what we do because, will make you not only a more positive person but a stronger business owner.
Knowing your BECAUSE is why people buy from you. If you don't know why people come into your business, or purchase your product, it's time to find out. That's what makes you different than the business owner down the street.
Being a business owner in what we can refer to as my more seasoned years, I have learned that it is important to be able to move past the yeah but. Yeah but.. people won't support my cause or yeah but.. it's overwhelming to learn. The But's stop you in your tracks and the fear or complacency of moving beyond the Yeah but…keeps your business stagnant. These are phrases that you have to replace with, I can do this because.
Whether you are a business owner, a manager, or an employee, you have more than likely been faced with having to learn a task or start something new and wanted to respond with the, yeah I would do it but…. The 'yeah but' is your resistance to change. It allows you to justify a reason as to why you cannot complete a task.
Over the course of the past ten years, my business has evolved. Like anyone else in business, if you don't evolve, you just stay stuck. For me this task was digital marketing – social media, email marketing and websites. It seemed such an overwhelming task and I had no idea where to start. I didn't know how to # a twitter feed, nor did I really understand what twitter really was, or how to follow a group on Facebook, nor how to put together a website site map. That was back in 2007, and let's just say I have come a long way since then and even manage to show my own kids new features from time to time on these social media platforms and in the digital marketing arena. How you may ask? I turned the yeah but… into the because.
People didn't turn to me to help manage their digital marketing programs when I was still floundering myself. They did however turn to me when I learned it, attended webinars, watched YouTube videos on how to increase followings and yes even took a few classes. People came to me for help BECAUSE I made myself a well-educated expert in this field as I knew that it would be part of my key to success.
Since my first webinar I have learned many more tricks of the trade that allow me to be a successful blogger and manager of social media. There have been many hours spent on training. I turned my yeah but, into my, because. People turn to me for help because I have become educated in my field. The Edmiston Group stays up on the social media trends and integrates digital marketing into an overall marketing strategy.
There will always be lessons to learn and people that are more talented than I am to learn them from. However, I am a lifelong learner and will always find new things to learn. You can bet a few years down the road the Edmiston Group will continue to evolve and find new technologies and services to offer our clients. After all….isn't that how we bring fresh ideas to grow your business?
About the author: Autumn Edmiston is the CEO and owner of the Edmiston Group. The Edmiston Group is a multifaceted Pittsburgh based marketing consulting firm providing senior level marketing management services to businesses and non-profit organizations on a short or long term basis. Core areas of service are business development, marketing, strategic planning and public relations. The Edmiston Group has consistently delivered and implemented real-world, proven business marketing ideas and strategies for business growth.