Holiday Planning – A Recipe For Success!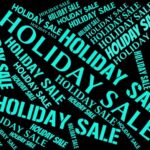 Are you one of the many business owners who are in the retail business? If so, you know that a large part of your yearly profits come from the 4th quarter sales. Many retail stores see as much as one third of their total sales from October to December.
With that in mind, your next question should be… "Is my business in shape to finish out the year strong?" If not, there is still time! There are several ways you can help to boost sales as we approach the holiday season.
Decorate
With holiday sales accounting for nearly 20 percent of annual retail industry sales, according to National Retail Federation, don't rely on foot traffic alone to bring people through the door. Understandably, many business owners fight decorating, saying how the holiday season is short and it is a lot of work to decorate for each holiday. I combat this by saying, would you rather walk into a nicely decorated store or professional office during the holidays, or one that didn't decorate. In most cases the answer is easy. An inviting store that has decked the halls is more inviting and will likely yield a higher percentage of foot traffic.
Be sure to include snap shots of your handiwork and post those pictures along with some text to your social media channels. Include new inventory or "hot selling items"!
Proper Staffing
The holidays are a time when people want to spend time with their friends and family. This often can leave a store short staffed during a peak time when more staff may be needed on the floor. It is a good idea as holiday season approaches to talk with your staff about the holidays, giving them a choice of which jobs ones are most important to them while making sure that you are properly staffed during peak sale times. This may mean that you need to bring in a few temporary employees to help get through the busy season. Customers become irritated when it's obvious there isn't enough staff, or only one or 2 checkout lanes are open during peak sale times. They will find somewhere else to spend their money, either a store down the street, or online.
Make shopping an event worth attending
In store events help to bring customers through the door. They create hype and excitement which will bring customers in that may have otherwise strolled past your door. During the holiday season it is a good idea to have a monthly event with at least 2 big events throughout the season. Events can be such things as manufacturer trunk shows, charity events, family and friends shopping nights, VIP shopping, vendor demonstrations and many more. Keep in mind that many customers love to have their pictures taken with Santa, and may even use those as Christmas cards.
If appropriate for your business, pet photos may bring in new customers who currently don't visit.
Maintain inventory control
Lastly it is imperative that you keep the proper amount of inventory. If you plan on having a sale, be sure to stock up on the products that are likely to fly off of the shelf. How aggravated are you on Black Friday when you enter a store and a sales person said they only had 6 of something in stock to start the sale. There is nothing worse than running out of a product and having people come in who were set on making a purchase.
The holiday season can be a crazy time. As a business owner you can choose to keep going at your everyday pace, or take advantage of the time of the year and boost your sales. The key is planning ahead for the sprint to the end of the year. Scheduling events, advertising and executing on social media can pay off as we enter the 4th quarter.
About the author: Autumn Edmiston is the CEO and owner of the Edmiston Group. The Edmiston Group is a multifaceted Pittsburgh based marketing consulting firm providing senior level marketing management services to businesses and non-profit organizations on a short or long term basis. Core areas of service are business development, marketing, strategic planning and public relations. The Edmiston Group has consistently delivered and implemented real-world, proven business marketing ideas and strategies for business growth.