Off Hours and Online Reputation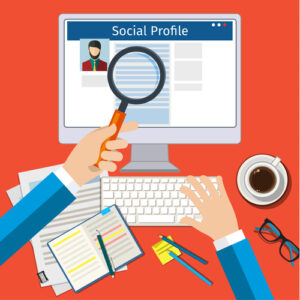 I'm a big proponent of Social Media. After all, that's part of my business offerings. However, there's a fine line between what I share personally, socially and from a business sense. Did you ever follow people on social media that had to share absolutely everything? I'm all for sharing, but sometimes sharing too much can be a detriment. Airing dirty laundry on social media for all to see is not the way to handle a situation.
You may think…well that's what social media is all about – being social. As a business owner when a company contacts me, one of the first things I do is check out their web presence I look at their website and any social media channels the company may have. If they haven't posted anything on their Facebook page for 8 months, and I can't find a solid LinkedIn profile – they may be a good target for me.
But Social Media is also plays a role in finding the right employee. These two situations are true stories. One business was looking for multiple employees in the service industry and the other business was looking for someone in the professional field.
Let's start with the service industry. The business owner posted an opening on the website and various social media channels. She had an individual reach out to her for a potential job. Upon a search in social media, the business owner found the applicant and reviewed her online profile and postings. Not everyone has their settings set that only allow their friends to see what they post. What happens if that friend shares something in their feed about you – or you're tagged in someone else's photo? What the owner found was that a potential candidate's posts were filled with cuss words and inappropriate images. That candidate never made it to the interview phase due to everything she shared online.
The second candidate interviewed for a professional position with a prestigious company. The candidate had gone through multiple interviews and felt he would be selected for the position. He thought he had nailed his next job opportunity. However, another individual was selected. The candidate reached back to the person who interviewed him and asked if he could buy him a cup of coffee. Since the candidate was relatively young in his career, he wanted to know where he missed the mark on securing the position. The interviewer met with the young candidate and told him that he actually was the top candidate, however when they checked his social media presence he was always partying, had a drink in his hand and was living the life. That wasn't the type of individual the company was looking for. The interviewer said to the candidate, that he should clean up his online image. It's one thing to party, but another to always have photos out there validating what you're doing on your own time. The majority of his images were that of his activities in party mode.
So…is there a balance? I believe so. For companies – social media is about engagement, sharing ideas, stories and educating their consumers on the latest trends and product developments. For individuals, show diversity – family, friends and thoughts. What you say and how you act online may pop up when you least expect it and could cost you that coveted job! Companies will check your online personality before hiring you so do yourself proud in what you post!
About the author: Autumn Edmiston is the CEO and owner of the Edmiston Group. The Edmiston Group is a multifaceted Pittsburgh based marketing consulting firm providing senior level marketing management services to businesses and non-profit organizations on a short or long term basis. Core areas of service are business development, marketing, strategic planning and public relations. The Edmiston Group has consistently delivered and implemented real-world, proven business marketing ideas and strategies for business.