Tips To Market Your Business On A Budget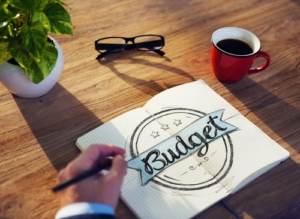 Do you ever look at those large businesses… those with seemingly unlimited budgets who spend thousands upon thousands of dollars each month on marketing activities? Do you wish you had that kind of budget? The kind of budget that allows you to take more risk in your marketing efforts without the concern that it could bankrupt their company?
As a small business owner, things are likely very different when it comes to spending on marketing. You may not have multiple departments to review analytics, create landing pages for certain products, execute multiple social media ads and pay per click advertising. It is important that your business receives the biggest bang for your buck. There are a few steps that you can take to maximize your return in investment.
Social media
One of the wonderful things about social media, such as Facebook or LinkedIn, is that they can boost your reach with little investment. Social media helps to level the playing field for small businesses. When leveraging connections that regularly share your content, you reach a broader audience with minimal investment.
A $10 investment to boost a Facebook post can land it in front of several hundred more people who may be interested in your business. These are new people who could possibly share your post or like it, displaying it to their friends and family. For Business-to-Business businesses, advertising on LinkedIn can help reach decision makers.
Market research
Market research is a very important aspect of marketing. It also happens to be free, that is if you choose to do it yourself. Part of market research is learning what your customers like, where they like to hang out, and what they want.
If you do your homework, whether it is through surveys, questioners, or simply listening to what they are saying, you stand a better chance of being able to deliver what they want. Know where their pain points are and offer a solution. This will allow you to engage on chat groups where your customers frequent. When engagement is done a certain way, you can ask for help and pose a question. These answers may be your next product or service you offer.
Email marketing
Have you ever seen a new email pop into your inbox and became excited to see a promotion being run on your favorite product? At some point you decided that you wanted to opt in for the promotions that company was offering.
As a Business-to-Consumer business owner, you need to do the same with your customers. Once you acquire your customer's email address, you gain the ability to entice them to come back to your store or online website and shop. Effective email programs target shoppers and provide appropriate information and/or discounts for the products they are most interested in. These programs are customizable and can offer your customers the ability to take advantage of any sales or discounts you might be offering.
If you offer a Business-to-Business service, you can use email to engage your audience through insightful blogs, video, or white papers. The key to any program is to regularly execute and then utilize the email platform tools to cross share through your social media channels. You want to set yourself apart as an expert in the field.
Just because you have a small business does not mean you cannot market in a big way. Improving your brand marketing through relatively inexpensive avenues can help to boost sales and generate larger profit, all while operating on a smaller budget. Listen to your customers wants and needs. Provide them an avenue to receive your latest sales and incentives. This will help you to market while staying within your budget. Want to learn more…email us or give us a call at 724-612-0755.
About the author: Autumn Edmiston is the CEO and owner of the Edmiston Group. The Edmiston Group is a multifaceted Pittsburgh based marketing consulting firm providing senior level marketing management services to businesses and non-profit organizations on a short or long term basis. Core areas of service are business development, marketing, strategic planning and public relations. The Edmiston Group has consistently delivered and implemented real-world, proven business marketing ideas and strategies for business growth.