Blogging Tips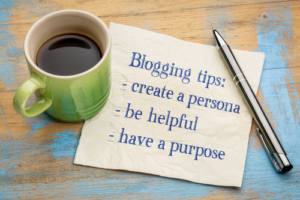 Part of marketing success comes from the ability to stay abreast of upcoming trends while using the latest platform to stay in touch with your customers. For many small businesses, you know all too well that your time is limited, as is your budget.
Blogging and giving your social media marketing a personal touch are a great place to start. By keeping your social media up to date with fun posts, while still being informative, can keep your followers engaged.
Company blogs have become an ever increasing trend throughout the business market. While keeping a blog can seem like an overwhelming process, it will help to generate revenue as your audience begins to view you as an expert in the field.
While blogging is time consuming, it is a method to drive traffic to your website and social media page. Research shows that over 50% of companies that blog have gained customers due to the blogging. Many businesses feel that their blog is crucial to the success of the company. Blogging can help to boost search engine rankings, keep your company in the public's eye and be an industry leader sharing important information.
Target your market with your best content and don't be afraid to bring in guests for interviews and/or a guest blog. It will add variety to your content and expand external links when posting on your website. Write in-depth, tantalizing tutorials to give away your most valuable ideas — because that's how you gain leads and win clients.
Social media has become a very popular platform for advertising and reaching your consumers. You cannot afford to become complacent in your efforts on social media. An easy place to start is with Facebook. They offer advertising that can target a specified demographic. This can help you to target your advertising to a specific audience, age range or area where you are most likely to see results. Facebook is always changing their algorithms, so it's important to create engagement and not just a push of information on your channel.
Depending on the type of business you have, Pinterest and Instagram work well for image heavy products or services. Twitter will work for many different types of businesses and LinkedIn is more focused on business-to-business. Each channel you work with will require you to build your followers. If you're just starting out, pick one or two channels to start and stay active.
Create a blog and social media schedule and follow the plan. Be different, be opinionated, but most importantly be yourself.
About the author: Autumn Edmiston is the CEO and owner of the Edmiston Group. The Edmiston Group is a multifaceted Pittsburgh based marketing consulting firm providing senior level marketing management services to businesses and non-profit organizations on a short or long term basis. Core areas of service are business development, marketing, strategic planning and public relations. The Edmiston Group has consistently delivered and implemented real-world, proven business marketing ideas and strategies for business.