What Zone Are You In?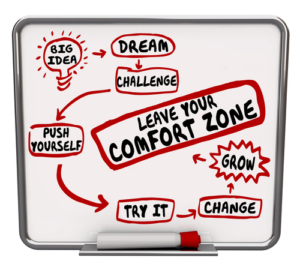 Do you find as a small business owner that you often feel like you are peddling as fast as you can and are going nowhere, or not near as far as you had hoped? Many of us do. Effective time management and the development of solid people skills will help you set yourself for success and accomplish more.
As a business owner it is important to have people skills. Knowing how to handle other people has a large part to do with how successful you are in in life, as well as business. Many people overlook the fact that these skills also involve you. Recognizing gaps in your own skillset or knowledge base is the first step to becoming better and more efficient at running your business.
Step Out
Becoming more efficient starts by setting goals that are above your abilities. While this sounds crazy, it forces you to improve. Let's look at three personal zones that you can achieve when setting goals – the comfort zone, the stretch zone, and the extreme zone.
By staying in the comfort zone you essentially stop your learning process. You remain comfortable in the status quo. You have your set clients and you're happy. Nothing rocks the boat right? As methods of doing business and technology change, you choose to resist change. Efficiencies that come with those technologies are lost and you continue to work harder, but accomplish the same amount or less due to increasing demands. Perhaps during that time one of those long term clients decides to take a different, more progressive direction and leaves you behind.
As you step into the stretch zone you begin to stretch your abilities. This is where you push the envelope on what you are comfortable with. You have stretched your knowledge base and with guts and fortitude learned how to accomplish these tasks in new ways. As you continue to learn new things, you may receive more responsibility at work, or develop a new product line if you're a business owner. These things didn't appear to be viable without the stretch so you've opened yourself up to new possibilities and opportunities.
Last we have the extreme zone. Entering this zone can be dangerous as you are reaching into an area where you simply don't have the skill set necessary to be successful and thus can set you and your self-confidence back. You can't go from couch potato to a triathlon participant in a week. Without proper training, sacrifice and learning how your body reacts to this preparation, you set yourself up for failure.
How you venture into the stretch zone depends on your personality. Some people prefer to take small steps while others jump in with both feet. Reaching into this zone will help to build your confidence and enable you to gain skills that will allow you to move onto tasks that perhaps were originally in the extreme zone. Knowledge is king.
Set goals.
Setting goals helps to keep moving you forward toward reaching that goal. Attainable goals that are set with deadlines will also force to keep you to stay on track and measure your results. The 80/20 rule is also called the "Pareto Principle" named after its founder, the Italian economist Vilfredo Pareto from 1895. What this means is that 80% of result comes from 20% of the focused effort.
Our daily to do lists can be overwhelming and it's tempting to complete small tasks throughout the day, but at the end of the day, feel like we've not accomplished anything. Setting focused goals and blocks of time in your schedule when you're fresh and where you're laser focused can help you achieve those goals. Successful people work toward their top two or three goals all the time.
Often goals can be overwhelming and leave you wondering where to start. Fortunately there is a simple solution. Just as dissecting a big project, breaking your goal down into smaller segments with target dates can help to make the goal seem more achievable.
While at times you may feel like these smaller goals are insignificant, be sure to step back every now and then and look at the bigger picture. So tell me…are you ready to stretch?
About the author: Autumn Edmiston is the CEO and owner of the Edmiston Group. The Edmiston Group is a multifaceted Pittsburgh based marketing consulting firm providing senior level marketing management services to businesses and non-profit organizations on a short or long term basis. Core areas of service are business development, marketing, strategic planning and public relations. The Edmiston Group has consistently delivered and implemented real-world, proven business marketing ideas and strategies for business growth.