Creativity for Business Owners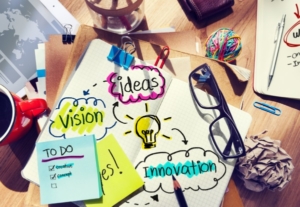 Are you finding it difficult to be creative when it's summer? Are sunshine and fun hampering your creativity? Perhaps you're convinced that you just aren't the "creative type" to begin with? Hey, not everyone gets all the good genes.
With some effort and practice, creativity can be learned. The key is in the planning. Do you create "To Do" lists and follow them?
Do you have a yearly marketing plan in place that helps to spur ideas? If not, feel free to download our 2018 Marketing Calendar with dates, events and marketing ideas to grow your business.
Here are some tips to keep the creativity flowing.
Be still…Give Yourself Time and Space. Thirty minutes a day to be still will allow thoughts to flow.
Engage in brain dumps from your head to paper. These don't need to be complete paragraphs but rather thoughts and ideas. You might be surprised what quiet time can unveil.
Technology overload – minimize distractions. Put the social media to the side and turn off email while you work on your project.
Prioritize your projects and don't let distractions get in the way. Tackle new projects first thing while you're fresh. here's a saying, "If you have to swallow a frog, don't look at it too long. f you have to swallow more than one frog, swallow the big one first. (source unknown) Tackle big projects when you are fresh.
Attend a seminar or take an Online Course. Have an interest in a particular topic that you want to explore? Online training sites like

Udemy

offer over 80,000 low-cost online courses you can take in a variety of subjects.
Learn new things and open your mind to new ideas and possibilities.
Do You Doodle? Why do you think adult coloring books have become so popular? It brings out your inner kid and allows you to be creative.
Keep an Idea File with you. Your smartphone can easily store notes and ideas.
Find Friends. You become like those you hang out with. Surround yourself with creative people who get excited about new ideas – business owners, artists, creatives, writers, web designers, etc.
Make Time for Exercise – I personally struggle with this one! Exercise reduces stress and clears the mind.
Read from a variety of sources…books, magazines, journals and blog posts.
New behaviors can become automatic through the process of habit formation. There is a simple process to Developing Good Habits:
Identify the habit. …
Make the decision, and then the commitment, to change. ..
Discover your triggers and obstacles. …
Devise a plan. …
Employ visualization and affirmations. …
Enlist support from family and friends. …
Remind yourself that creativity can be a learned skill. Schedule in some time in the coming weeks to try out the strategies above. Feel free to share your creativity with us!
About the author: Autumn Edmiston is the CEO and owner of the Edmiston Group. The Edmiston Group is a multifaceted Pittsburgh based marketing consulting firm providing senior level marketing management services to businesses and non-profit organizations on a short or long-term basis. Core areas of service are business development, marketing, strategic planning and public relations. The Edmiston Group has consistently delivered and implemented real-world, proven business marketing ideas and strategies for business.