CONSISTENT BRANDING AND ONLINE REPUTATION MANAGEMENT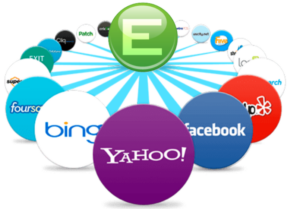 You've worked hard to build a good business and reputation, but how do you spread the word to existing and new customers? Are you being found online? Is your information consistent? Local SEO plays a role in helping businesses grow.
Through a new service offering, and by leveraging technology, the Edmiston Group can help you manage and maintain and consistent online brand and messaging. Think about all the business directories and online opportunities out there to put your business on the map. Be present, be consistent and be found!
Once people know you are out there, now you need to manage your online reputation! We help businesses preserve their brand and create a positive digital experience for new and existing customers.
Components of our service include:
We can integrate your business directly with 75+ business directories including all the top maps, apps, search engines, GPS Systems, social networks, and digital assistants, making it easy to update your business information in one fell swoop.
Know that you have control over how your business is promoted and listed over the entire web. You can continue to update and promote your business regularly with new services, imagery and/or special hours for holidays. Imagine if your business has to close last minute due to an emergency and drive relevant messaging. It would be important to let a potential customer know this as quickly as possible. You can ensure that updates are delivered immediately so your customers are always in the know.
With Reputation Management you can take control of your online reviews! Online reviews are necessary in today's digital world and also help your businesses with local SEO if managed properly. Good third-party reviews help a business grow. People buy as a result of reading third party validation on service delivery. Being alerted to unfavorable reviews and responding to the customer before they go live is now an option. This service allows you to be proactive in making sure your online reputation is at the top of its game.
To schedule your online reputation evaluation, email [email protected]. We are offering a free audit of your current web listings and can demonstrate how it can be improved.
About the author: Autumn Edmiston is the CEO and owner of the Edmiston Group. The Edmiston Group is a multifaceted Pittsburgh based marketing consulting firm providing senior level marketing management services to businesses and non-profit organizations on a short or long-term basis. Core areas of service are business development, marketing, strategic planning and public relations. The Edmiston Group has consistently delivered and implemented real-world, proven business marketing ideas and strategies for business.