MANAGING YOUR ONLINE REPUTATION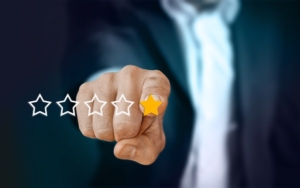 Are you helping your customers or selling? When you remember what your customers' needs are and offer a solution to those needs, you'll stand apart from the competition. By helping through offering insights and resources you take on a more humanistic approach in how you're assisting your customers.
As you create content, identify how you can bring in the human element. Outline a case study of how a customer benefited or highlight how a customer can benefit from using your product or services. Your content should find a way to spark friendly conversations between your business and customers.
Social media can play a role in the humanness of your business. Encourage discussion about content on social media, reply to comments, use customers and staff members in your content, and create content about the issues that are most important to your customers. They may be consuming it through a screen, but you can still make them feel something in their hearts with your content. That's part of the connection they have with you.
When asking people to review you online, you open yourself up to bad reviews, too – and that's okay. Just remember to respond to every review, in a calm, helpful fashion and seek to turn any poor review into a positive experience. What's important is that you shouldn't respond just to acknowledge negative reviews; you should respond to positive reviews, as well. Replying to your reviews will show other future customers that you're active in your online communications.
Social media has played a role in helping to level the playing field for small business. Most consumers look at online reviews before purchasing a service or product. The Edmiston Group has recently been involved with two separate situations where online reviews were not as favorable. The companies had totally different customer situations that cause the less than favorable review. Here's the difference in their response:
One company didn't respond to any reviews – a thank you, acknowledgment that they were happy the reviewer liked the service, etc.
The 2nd company wrote something for each review they received. Upon receipt of a negative review, they contacted the reviewer via phone, explained the situation as to why something couldn't happen due to regulations and wrote a response.
So, if your potential customers are coming across your small business online and running away in the opposite direction once they see your lack of endorsements or your lack of engagement, what can you do to turn that around? Online reviews are here to stay. Ask your customers to become raving fans by taking a couple minutes to write a review. Be sure you are monitoring your social media channels and engage.
Set yourself apart from the crowd. Be different by saying "please" and "thank you," sending a personalized thank you note in their online order, giving a small discount to apologize for a customer service issue and so on. Be customer service focused. Your customers will remember your kindness and may return the favor by leaving you a positive review.
About the author: Autumn Edmiston is the CEO and owner of the Edmiston Group. The Edmiston Group is a multifaceted Pittsburgh based marketing consulting firm providing senior level marketing management services to businesses and non-profit organizations on a short or long-term basis. Core areas of service are business development, marketing, strategic planning and public relations. The Edmiston Group has consistently delivered and implemented real-world, proven business marketing ideas and strategies for business.