Plan Ahead: 4 Ways to Reduce Overwhelm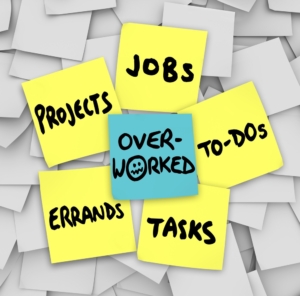 Starting a new business or managing an existing business can be very rewarding. However, with the ever-changing landscape of business and the challenges of keeping up with new ideas, it can also create a lot of stress. Having too many things to do in too short of time often forces many small business owners into working extremely long hours and fostering feelings of being out of control… leading to a sense of overwhelm.
If this is your case, know that you are not alone. According to Small Business Administration, there are 33.2 million small businesses in the U.S. Small businesses are defined here as firms with fewer than 500 employees. So you're in good company! Although you cannot add more hours to your day, here are some tips to help you stop feeling so overwhelmed.
Plan Ahead Around Social Media
Blog writing and social media have changed the way we share information and how to stay in touch with one another. With so many apps and so many platforms, it is easy to be overwhelmed. The more platforms you have, the more work you need to do to create each post specifically for that platform. Here's a tip: Try writing and sharing posts around your next blog across all platforms at the same time, while it is fresh in your mind. Or better yet, schedule your posts well in advance using your favorite scheduling tool. Extra pro tip: Customize each post for each platform. A Tweet is very different than a post on LinkedIn.
Segment Your Time
Your time is valuable. When sitting down at your computer to work on a task, you might get sidetracked and then realize that you've spent a lot of time accomplishing very little. Try segmenting your time by setting aside specific amounts of time, or even times of day, to focus on particular tasks. For example, set 1-hour blocks of time for such things as checking and resolving email. Once your segment of time is up, move on to the next segment and continue until you complete all of the segments for that day. Make it fun! For each segment, stretch, grab a coffee, dance for a minute, or grab your favorite snack. This is a great way to help make the time more enjoyable and also help you stay focused on the task.
Use Scheduling Tools
For any small business to be competitive and flourish, you need to take advantage of the power of technology. Scheduling tools allow you to eliminate antiquated methods and help you run your business much more effectively. Whether your need is for scheduling appointments, scheduling social media posts, or keeping projects on track, there is an app for you. I personally have worked with all three of these apps based on the client I'm working with.
Asana is an example of a scheduling tool app that helps you manage projects. Let's face it, between meetings, phone calls, and answering emails, a lot of your time at work isn't focused on the actual work at hand. With Asana, you can assign project tasks with deadlines, which provides accountability for each assigned task. The communication is focused and actionable and you'll always know the status of the work happening across your team.
Monday is a tool much like Asana and allows teams both internally or externally to collaborate, set due dates, and manage projects.
Teamwork is another project management software platform that is used to manage projects and communicate amongst team members.
Outsource
According to the Women's Business Enterprise Council, "When your business begins to grow, it can be difficult juggling everything in-house. Outsourcing allows you the time and resources necessary for focusing on other aspects of the company, while still providing customers with high-quality service they expect from their favorite brands".
By outsourcing tasks to other individuals or small businesses that perform various tasks better and more efficiently than you can (no, you can't do it all!), your business will likely experience faster turnaround times for launching new products, be more competitive within your industry, and help you cut overall operational expenses.
By planning ahead and implementing the above tips, you can create the space to focus on more important activities, thereby reducing your stress and your feelings of overwhelm.
If you need help with your marketing activities, send me an email so we can plan your next steps.

About the author: Autumn Edmiston is the CEO and owner of the Edmiston Group. The Edmiston Group is a multifaceted Pittsburgh-based marketing consulting firm providing senior-level marketing management services to businesses and non-profit organizations on a short or long-term basis. Core areas of service are business development strategies, website creation and management, social media management, marketing, strategic planning, and public relations. The Edmiston Group has consistently delivered and implemented real-world, proven business marketing ideas and strategies for business.