The Benefits of Participating in Professional Business Events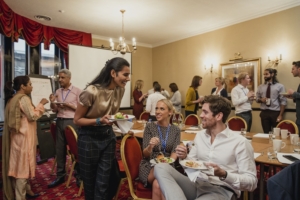 The success of your business depends on many factors. Your business skills, knowledge in your area of expertise, your ability to connect with others, and your network. And this is where professional business events come into play.
Events in your local area provide a wonderful backdrop upon which to build these skills and connect with other entrepreneurs in your area. As many of us have learned, whether you love or hate networking over Zoom, it's hard to beat the connection that can happen in real-life, face-to-face events. If it's been a while since you've attended a professional business event, here are 5 tips to help you feel and show up confident.
Three Benefits of Participating In Professional Business Events
Building Relationships: Networking at events is a very valuable way for attendees to share experiences, exchange ideas, discuss successes and failures, and exchange information. When you're inspired and motivated through these conversations, it naturally draws others to want to meet with you.
Learning New Skills: Besides learning about the topic of the event itself, you'll also have the opportunity to learn through interacting with other business owners. Attending professional business events is a great way to practice communicating more efficiently and to stay in touch with current trends.
New Opportunities: Connecting with others, and allowing your knowledge to be seen, may open the door for potential speaking engagements, leading workshops, or even sponsoring a booth at the next professional business event. Attend with an open mind and see what opportunities present themselves.
"Networking is an investment in your business. It takes time and when done correctly can yield great results for years to come" – Diane Helbig
In the Pittsburgh area, there are many great organizations to help you with your business as well as offering business events you can attend.
Here are a few organizations that can help you expand your personal and business growth:
Pittsburgh Technology Council: Pittsburgh Technology Council (PTC) offers a busy calendar of events, including Networking events, Women's Focused events, Huntington Bank CEO Series, and various Member events.
Their main focuses for their members are visibility, talent, business development, and public policy for companies in or supporting technology businesses.
Chatham University Center For Women's Entrepreneurship: CWE offers everything from content-specific training series for different areas of your business to various workshops and seminars. Their events offer a wonderful way to meet and connect with other women entrepreneurs in the Pittsburgh area.
Duquesne University Small Business Development Center (SBDC): In addition to offering no-cost, confidential consulting services, The Duquesne University Small Business Development Center (SBDC) offers a variety of events and training workshops that will help you to launch, grow, or exit your small business.
The Digital Foundry in New Kensington in partnership with manufacturers, educators and the workforce. Their mission is to accelerate economic growth and competitiveness using digital technologies and data-driven decision-making.
Training classes Levels 1-3 take someone who seeks upskilling or reskilling to work in the manufacturing sector through level 3 programs that are for technical managers and engineers who are responsible for advancing product and service development. Coming Spring 2023 is a NEW Industrial Robotics & Automation Training with FANUC Certified Trainers.
These are just four opportunities in the Pittsburgh area. No matter where you are on your path, attending professional business events and furthering your career skills will help you improve your communication skills and have a positive impact on your career.
If you need help with marketing materials for attending your next business event, Edmiston Group would love to help. Call us at (724)612-0755.
About the author: Autumn Edmiston is the CEO and owner of the Edmiston Group. The Edmiston Group is a multifaceted Pittsburgh-based marketing consulting firm providing senior-level marketing management services to businesses and non-profit organizations on a short or long-term basis. Core areas of service are business development strategies, website creation and management, social media management, marketing, strategic planning, and public relations. The Edmiston Group has consistently delivered and implemented real-world, proven business marketing ideas and strategies for business.