3 Ways to Support Small Businesses In Your Community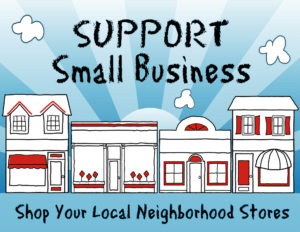 Why are small businesses so important? They provide opportunities for entrepreneurs and often create meaningful jobs with greater job satisfaction than positions with larger and more traditional companies. They also help cultivate local economies by keeping money close to home and supporting neighborhoods and communities.
In honor of Small Businesses, American Express launched Shop Small in 2010 to help small businesses recover from the recession. It was an immediate success, leading to the Senate passing a resolution in 2011 to recognize the shopping holiday and to celebrate it on the Saturday after Thanksgiving. This year Small Business Saturday is November 26, 2022.
When we support small businesses, it makes a huge impact! Here are some ideas to get you started in supporting the small business you love!
1. Shop Local
Retail: A local small business brings jobs to the area, and the money it earns usually stays in the community, which helps the local economy. Small businesses can also offer unique products and services you won't find elsewhere else, and that can make great gifts. If you're shopping for a gift and can't decide which specialty item to select, ask if they have any gift cards or gift certificates for sale.
Food Establishments: If you like to dine out, order local takeout or have your food delivered. Restaurants were some of the hardest hit businesses in the last couple of years, due to COVID restrictions on how they could do business safely. Many establishments have implemented contactless dropoff or curbside pickup in order to reduce contact and safely provide you with your favorite foods.
For any small business, a single purchase is a good start, but if you want to make a real difference, make shopping small a lifestyle. Local brick-and-mortar businesses in your community are a great place to start but don't forget, you can also find plenty of small businesses operating online and support them too.
2. Leave a Positive Review:
Word of mouth remains one of the best and most affordable forms of advertising, as it can generate new customers for small businesses. Word of mouth can also create a buzz and have a ripple effect if your friends also tell their friends about the company.
Spread the Word Using Social Media. This one is completely free, only takes a couple of minutes, and can be done from the comfort of your own home. Follow the accounts of your favorite small businesses. Like a few of their posts or leave kind comments. This will increase the company's engagement metrics. Then, use your own social media accounts, like Facebook and Instagram, to post a review. Share photos and videos of yourself at the business, the store layout, or of a purchase you just made. Tag the company in the caption or tag yourself at their physical location and share it with your followers. This will add more value to your review. Even if you don't have a large following, posting and sharing this content will help the business reach a new and wider audience.
3. Engage with small businesses in new ways
Be a loyal customer. A lot of businesses added new options such as virtual classes, to provide for their customers' safety during the coronavirus lockdowns. These options actually helped them to evolve their business and reach people in new ways. Also, check to see if a local business has a customer loyalty and rewards program. If so, sign up for it – not only will you be supporting a local business, but you'll get discounts and rewards for it, too.
It's more important than ever that we continue to support small businesses! By Shopping Small, you are saying "thank you" to local businesses and letting them know you appreciate the time and effort they put into making your life better.

About the author: Autumn Edmiston is the CEO and owner of the Edmiston Group. The Edmiston Group is a multifaceted Pittsburgh-based marketing consulting firm providing senior-level marketing management services to businesses and non-profit organizations on a short or long-term basis. Core areas of service are business development strategies, website creation and management, social media management, marketing, strategic planning, and public relations. The Edmiston Group has consistently delivered and implemented real-world, proven business marketing ideas and strategies for business.