Stand Out In a Crowded Market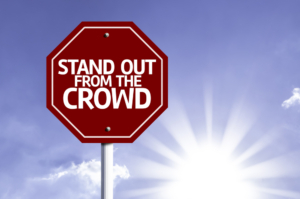 Business owners often find frustration in being found in a crowded market. There will always be someone with a larger budget and more resources. Think of how Amazon and Walmart are going head to head. Who will come up with the most unique strategy? A national eye care company such as Pearl Vision or America's Best compete against an independent optometry office. Making a dent to gain market share is never easy but using a blend of strategy, tenacity, and innovation is the key to winning.
The Pricing Race to the Bottom
Business owners often feel they need to try and compete on price. Crowded spaces often result in a race to the lowest price. Because market leaders can survive the deepest cuts, smaller players need a different strategy of cooperation if they want to compete.
Cooperation can set you apart. What do we mean by cooperation? Take two complimenting businesses who serve similar types of customers and create a joint marketing program. How can you differentiate your combined services? For example… a marketing company may partner with an event planning company. The event planning company may handle the logistics, equipment rental, be the event's project manager, but they still need the support of social media, graphic design and perhaps marketing strategy. Together the two companies are stronger and each has their client base that they can market expanded services to. So, in essence, you've doubled down on your client base by marketing each other.
Create Your Own Raving Fans
Not many big companies retain a reputation for stellar customer service. Industry giants have time and money on their side, but growth often comes with a price.
Smaller businesses can set themselves apart by delivering outstanding customer service. That could be in the form of birthday acknowledgement, personal phone contact, surveys, and a philosophy of customer service as part of your company's DNA. Everyone involved with that customer from the receptionist to the CEO should play a role in helping their customers.
Find a Pain Point and Create a Solution
Agility is a key component of this concept and starts with active listening. Smaller companies can make their brand heard by improving on something people didn't realize companies could fix. Get to the root of a problem by saving people time, money or hassle, and you could quickly gain ground while established players scramble to keep up.
Think about a recent invention you saw and said to yourself, "I wished I thought of that!" Those people are often seen on Shark Tank. They have found a pain point and developed a solution to solve the problem.
People deal with thousands of inconveniences they would love to ditch if they had better options. Provide those options in an easy, non-interruptive way, and the masses will toss aside existing solutions in favor of your smarter method.
Find Your Edge and Keep Sharpening the Blade
To maintain a competitive edge, smaller companies need to bring something special to the table. What's not always easy, however, is figuring out what that something special should be.
Limit your focus and efforts to one innovation at a time. Set some time parameters as to how long you will focus on a given effort and measure the results. When I worked in commercial sales, we would take a given vertical and work that vertical for a quarter focusing on new business efforts in only that space. For example, one quarter would be hotels, another quarter restaurants, another quarter retail, etc.
When that innovation doesn't take off, make a note of the experiment and move on to the next. When something works, invest a little more money and keep sharpening your tactics. If the extra budget doesn't produce extra results, pull back, but if you see more success, keep sharpening the blade. You may be surprised by how much people like what you create.
In today's crowded market space, it is possible to have a voice and be recognized. If taking on big businesses and winning were easy, everyone would do it. Successful startups earn their reputations because they achieve the improbable. You can overcome the odds and establish your business in the face of stiff competition. To do so, however, you need innovative tenacity and an idea worth your unconditional commitment.
Struggling with your differentiators or how to compete for market share, give us a call 724-612-0755 or email us for a 30-minute complimentary phone consultation.
About the author: Autumn Edmiston is the CEO and owner of the Edmiston Group. The Edmiston Group is a multifaceted Pittsburgh based marketing consulting firm providing senior-level marketing management services to businesses and non-profit organizations on a short or long-term basis. Core areas of service are business development strategies, website creation and management, social media management, marketing, strategic planning, and public relations. The Edmiston Group has consistently delivered and implemented real-world, proven business marketing ideas and strategies for business.