Utilizing Editorial Calendars to Help Guide Your Marketing Strategy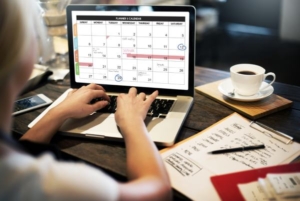 It's a new year and often business owners take this time to reflect and set new marketing strategy goals for the upcoming year.  An often overlooked tool in business growth is an editorial calendar.  Not only can it set the path for blogging, but it can also be the guide for social media as well as other marketing activities.
Editorial calendars mean a couple of things to a business owner.  But first, you must identify exactly who your ideal customer is.  Why is this important?  Because it also determines where to put advertising dollars.
The owner of a construction company I work with asked about advertising in a high-end community magazine.  The magazine went into an upscale neighborhood, but this client doesn't build high-end homes, rather they build manufacturing facilities, strip malls and office complexes.  Although someone in the neighborhood might hold a decision making position, we determined it wasn't the best use of his advertising dollars.   However, advertising in a different publication that targets property managers, land developers and commercial real estate professionals was a good fit.
Another client is a B to C.  We advertise in a digital publication that also allows us to publish monthly articles along with our advertising.  This publication is sent to thousands of potential customers that are his target market.  By utilizing an editorial calendar, we know when certain things happen during the year and target ads, as well as articles to that topic.
Monthly magazines and business publications have an editorial focus such as Real Estate, Summer Camps, Women in Business, Weddings, etc.  Knowing what is being published helps to plan your advertising budget and/or pitch a story to the editor.  It's important to note that these publications work 4-8 weeks ahead, particularly for feature stores.   For example, as of this writing, all ads for February have already been submitted.
There are certain appreciation days and awareness months throughout the year.  Understanding when these times occur allows you to plan special events around those times.  Did you know that May 4 – May 8, 2020, is Teacher Appreciation Week?  If your business served teachers, what could you plan special for them?  Perhaps if they come to your business they receive a free gift or a percent off their service.  This works particularly well in the B to C market.
There are National Fun Days throughout the month.  Having a calendar with those days noted will enable you to plan and preschedule some of your social media posts.
What if you are a B to B business?  You still can partner with a cause.  The Southwestern Pennsylvania United Way sponsors a Day of Caring on September 13, 2020.  Can your businesses partner with that cause?  Perhaps you can participate in a build with Habitat for Humanity.  Consider a care box drive for the troops.  There are over 4,000 nonprofit organizations in Pittsburgh.  Be a business that gives back.
What does this all boil down to?  PLANNING.  If you'd like a copy of our 2020 planning calendar email Autumn Edmiston or call 724-612-0755.  Don't know where to start?  The Edmiston Group can customize a yearly calendar specific to your business.
About the author: Autumn Edmiston is the CEO and owner of the Edmiston Group. The Edmiston Group is a multifaceted Pittsburgh based marketing consulting firm providing senior-level marketing management services to businesses and non-profit organizations on a short or long-term basis. Core areas of service are business development strategies, website creation and management, social media management, marketing, strategic planning, and public relations. The Edmiston Group has consistently delivered and implemented real-world, proven business marketing ideas and strategies for business.