SCALING YOUR BUSINESS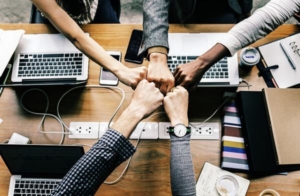 Are you ready to scale your business but don't know how to bring on the right team? Don't base decisions on where you are – base them on what you want to become. One of the first things to determine is what type of company do you want to become.
Most of us can remember a time where our parents questioned our friends as we grew up. While it was an annoyance, it taught us the important lesson of making sure that we surround ourselves with the right people. By selecting a strong group of friends, you create a circle of people that are there to support you, cheer your big accomplishments and help to pull you up when you fall. That same mindset of surrounding yourself with the "right" people is extremely important as a business owner.
Trusted business partnerships can be an important part of small business growth. Recruiting might not always be the answer. Often it can be better to outsource tasks and functions to ensure the best outcomes. Also, realize when you need to delegate responsibility. Perhaps you can outsource particular functions to a fractional CFO, Marketing Director or HR professional. You can build a virtual management team that can offer focused services and strategy for company growth.
When your business starts to scale up growth, it is hard, and things can begin to creak. Weaknesses can be exposed, and you can't always fix them quickly once the journey is started. You could be held back by your IT system, processes, cash flow, team or all of the above.
Do you know the difference between management and leadership? While managers plan, organize and coordinate, leaders have a vision; they persuade, inspire and motivate others. Think now about how you can build your leadership capacity to grow your company.
Create the right culture and an environment where people want to be and want to excel – then get out of the way and let them get on with it. All team members must be properly engaged, valued, motivated, recognized and rewarded. Everyone must pull in the same direction.
Small business is a fast-paced environment. With the onslaught of social media and other changes in technology, it's a never-ending quest to stay abreast of new trends. Hiring the wrong person or a non-team player may take your already overwhelming workload and increase it, causing more pain than relief.
References. It is amazing how many companies ask for references and never even look into them. References are an important part of finding out who the person is that you are looking to hire. It's also important to check out the person's social media platforms. Find out who they are outside of the workplace. This will help to determine if they are right for your company's culture.
Proper interview. As you interview your prospective employees, take the time to find out who they are. Questions like: What are you passionate about? What is your greatest accomplishment? How do you handle conflict or challenge? Why should I hire you over someone else?
Trust your gut. While the prospective employee may seem "nice", what does your gut tell you? As a business owner, you have followed your gut on many occasions and it has led you to this point in your business career, so don't stop listening to it now.
Multiple rounds of interviews. Be sure to have more than one interview with the person. Include other people in the interviews such as other employees, partners, or mentors. This will help you to get a better perspective on the person being interviewed. Remember that your employees are the ones who will be working with the recruit every day and valuing their opinion can help to make a more cohesive workplace.
While being a business owner is a rewarding experience, surrounding yourself with the right people, can help you take your business to new heights. Take the time to properly vet consultants and prospective employees. Building a strong team and leading with a vision to inspire your team can help make your business a success.
About the author: Autumn Edmiston is the CEO and owner of the Edmiston Group. The Edmiston Group is a multifaceted Pittsburgh based marketing consulting firm providing senior-level marketing management services to businesses and non-profit organizations on a short or long-term basis. Core areas of service are business development strategies, website creation and management, social media management, marketing, strategic planning, and public relations. The Edmiston Group has consistently delivered and implemented real-world, proven business marketing ideas and strategies for business.