What's In Your Marketing Toolbox?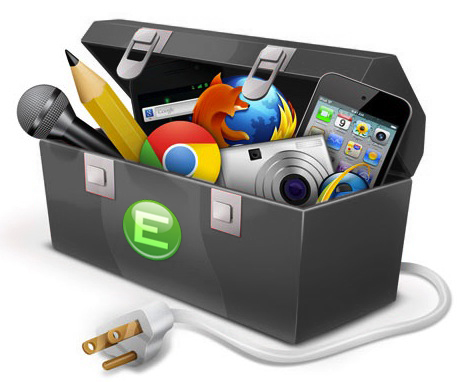 A great marketing toolbox can make your business stand out from the competition! The key is using tools and materials that uniquely identify both your company's brand, product or service and differentiates you from every other business providing the same or similar product or service as you do.
But where do you start? The first step is to conduct a thorough inventory of what's in your current marketing toolbox to see if all the tools you have in place are working efficiently and resonating with your target audience. If you do not have a marketing toolbox, here are a few tools to help you get started:
Branding
Branding usually consists of logos, letterhead, signage and promo materials. These marketing materials need to be accessible both online and in print and connect with your audience. It is important to consistently brand your marketing materials to show the public, clients and even employees a level of stability and a standardization in your company's representation. The more times people see your brand on promo materials, the more likely they will remember your company … and when it's time to buy, then your business will be top of mind.
Website Maintenance/Appeal
Website maintenance requires that you keep your website up-to-date, running smoothly and performing optimally. Your website needs to offer prospects the easiest way of learning about your company and your offerings. Routinely check your website for speed, broken links, domain and hosting certificates, as well as your SSL certificate.
You may be asking yourself how? One way is to incorporate an Analytics and performance tool such as Semrush. This tool allows you to identify errors, warnings, and issues with your website, and then provides recommendations to fix them promptly, thereby improving your website's overall SEO health.
Another valuable tool to add to your marketing toolbox is a metric monitoring tool. This type of tool lets you see where you're getting traffic on your website, where you're missing opportunities, and where you can focus your marketing spending to see the biggest ROI.
Search Engine Optimization (SEO)
SEO is the process of optimizing websites so that they rank well on search engines through organic (non-paid) searches. This is one of the most crucial marketing strategies for any business and it entails many pieces, such as:
Keyword research: The process of finding the most relevant words to use on your web pages. Keyword research helps you understand the phrases that are most searched for and relevant to your business. This in turn, helps you create pages that can be optimized for those particular searches.
Metadata: Metadata is the information that you provide to describe what your webpage contains. Metadata gives you control over the text that searchers see when they first encounter your website or a webpage. By making text that clearly answers the searcher's query, it may lead to more clicks to your website. 
Alt text: Alt text, or alternative text, is the small description that you give to the images on your site. It is also important to include alt text so that people who cannot see the images will be able to understand what the images contain.
Links: Including links is an important factor for SEO. When one page links to another it helps Google navigate your site and build a network of connections between pages and their content. This can be either internal or external links. 
Including the above four aspects into your SEO activities will help ensure your site is optimized for web searches.
Data Management:
Data Management tools help organize, process, and analyze an organization's data. These tools are designed to arrange data, and should provide a high degree of efficiency and effectiveness. Data management tools may include online payment portals, auto-schedulers or calendars. They may also include tools that support privacy, security, and the elimination of data redundancy such as a Contact Relationship Management (CRM) System. CRM software can provide several benefits to any business, from organizing contacts to automating key tasks. It can also be a centralized hub that enables consistent communication between you and the customer or within the organization. This is especially important as more organizations shift to remote work.
Email Marketing
Email marketing is one of the most cost-effective forms of digital marketing today. For every $1 you spend on email marketing, you can expect an average return of $40. Email marketing allows you to develop relations with current customers, reach out to potential customers through digital channels, and build relationships. You can control the customer's experience without having to worry about competing messages disrupting the email space like Facebook, LinkedIn or Twitter. Email marketing allows you to keep your customers informed, and to customize your marketing messages accordingly.
Social Media
One of the best reasons for your small business to be marketing on social media is that your customers are spending time on social media channels. By being active and establishing a presence on social media, consumers may be more receptive to your brand. This allows your company to be more conversational and show a different side of your brand and allows you to make authentic connections rather than just delivering direct marketing messages. Consumers are generally more responsive to social media and this can increase traffic to your website, leading to more sales.
In summary, by taking inventory of what's in your marketing toolbox, you are well on your way to building a successful foundation for marketing efficiency. When built right, all your marketing tools work together, strengthening your company's reputation as a leader and reinforcing the brand recognition of your products and services. If you need help building your marketing toolbox, I would love to help. You can call me at (724) 612-0755.
About the author: Autumn Edmiston is the CEO and owner of the Edmiston Group. The Edmiston Group is a multifaceted Pittsburgh-based marketing consulting firm providing senior-level marketing management services to businesses and non-profit organizations on a short or long-term basis. Core areas of service are business development strategies, website creation and management, social media management, marketing, strategic planning, and public relations. The Edmiston Group has consistently delivered and implemented real-world, proven business marketing ideas and strategies for business.