Masterclass – How to Be a Great Podcast Guest to Grow Your Business (or Brand)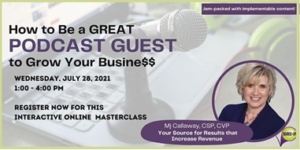 My good friend Mj Callaway, CSP, CVP, Author, Professional Speaker, Trainer and 2-time cancer survivor will present an online Masterclass program on what it takes to be a Podcast Guest on Wednesday, July 28, 2021 from 1:00 – 4:00 pm.
Content marketing strategies are expanding a multi-media approach is being used to grow brand awareness and engage audiences. Have you considered a podcast for your business? According to Wista, more people are listening to podcasts than ever before. From 2019 to 2020, the percentage of Americans who listened to podcasts monthly went up 5%, from 32% to 37%. In that same timeframe, the percentage of Americans familiar with podcasting as a content medium also rose by 5%, from 70% to 75%. After hitting record listenership in 2020, it's likely that even more listeners will hop on the podcast train in 2021.
Like any aspect of marketing, learning how to make a podcast is something you have to invest time and effort in, to get good at. You need to design your podcast artwork and create the intro and outro. But through podcasting you can accelerate your business growth and fast-track your marketing efforts as a podcast guest.
You won't want to miss this event. As a valued resource partner Mj has graciously offered my guests an additional bonus recording of the class. Use this link to register and receive the recording for the class.
Register Now For This Online Interactive Masterclass
Here are some highlights:
Are you ready to expand your audience, increase your client base, and grow your business? As a GREAT PODCAST GUEST, you CAN increase your reach while multiplying your marketing efforts.
Don't miss out on this opportunity to boost your online presence, gain brand awareness and so much more.
Say yes, if you want to:
Build brand awareness.
Boost credibility.
Gain media exposure.
Increase your client base.
Reach new audiences.
Multiply marketing efforts.
Share your message.
In this online MASTERCLASS, you will:
Discover the three must-haves that make hosts invite you to be a gu
Know the five top mistakes you need to avoid.
Find out the key elements you need to be a great guest who rocks his/her interview.
Get insider secrets. Shh!
Create a repeatable podcast marketing plan.
Plus, you'll get the templates you need!
So, if you want to gain more exposure, build your business (or brand), increase your credibility, and expand your audience/client base, you can do it and more.
During this jam-packed Masterclass, you'll discover how to create "sound bite phrases" that resonate with hosts and audiences. Sound bite phrases that have people repeating them. This Masterclass is all content, no filler.
You'll find out the three core must-haves to be a great interviewee.
You'll learn how to weave in your business so that people care without being sales-y.
And so much more that will make you look and sound more professional!
You won't want to miss this event. Space is limited. Register Now For This Online Interactive Masterclass and receive your free bonus recording.
About the author: Autumn Edmiston is the CEO and owner of the Edmiston Group. The Edmiston Group is a multifaceted Pittsburgh based marketing consulting firm providing senior-level marketing management services to businesses and non-profit organizations on a short or long-term basis. Core areas of service are business development strategies, website creation and management, social media management, marketing, strategic planning, and public relations. The Edmiston Group has consistently delivered and implemented real-world, proven business marketing ideas and strategies for business.